In this lesson, you'll learn how to create a score card in Call Tracker. This includes learning how to use a score card as customized questionnaire to score all calls that come into your Call Tracker numbers.
View the overview video or read this topic to learn more about creating a score card Call Tracker.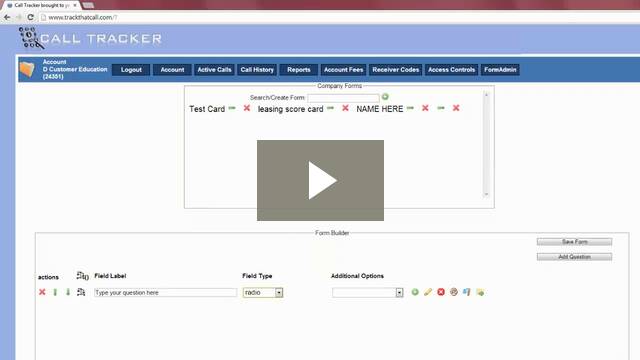 Creating a Score Card
Login to your Call Tracker Account via: www.trackthatcall.com
Go to the Form Admin Tab – located on the top right.
In the Search/Create Form: box, enter in the name ('General', 'Appointment', etc.) of the score card. (Accounts can have many score cards for specific campaigns.)
Select the green plus sign to create the score card.
Select the green arrow to add and/or edit the questions that show up on the score card.
Select Add question
Fill in the Field Label with the question.
Fill in the Field Type.
If needed, fill in Additional Options. In the open box, type in the first option and then select on the green plus sign. Follow this for all options.
If needed, assign a weight to the whole question (Select the weight scale to the left of the questions)
You can also assign weight to the options: select the option in the drop down, select the weight scale, enter in the points the option is worth, and select Set Option Weight. Do this for all options for this question.
Follow Step 6 for each question until the entire scorecard is completed. Once finished with your questions, select Save Form.
You have successfully created a new score card!
Need this to go?
Download our informative how-to guide.