In this lesson you'll learn how to edit an existing toll-free number in Call Tracker. You will learn how to edit an existing number for a new ad source as well as manage the number's main information and change any existing features.
View the overview video or read this topic to learn more about editing an existing Call Tracker number.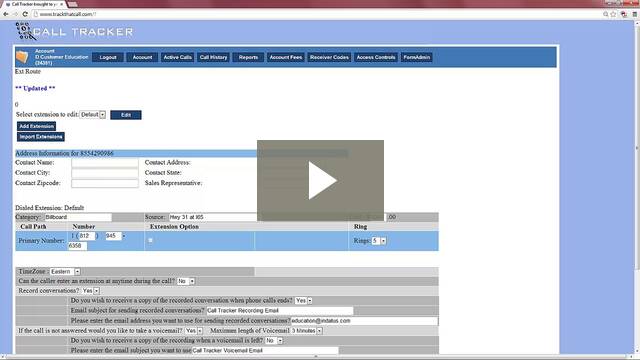 Editing an Existing Number
Login to your Call Tracker account via www.trackthatcall.com.
It will automatically take you to the Account tab within your account.
Select the number you would like to edit.
Select Edit.
Edit what you need to edit.
Select Update.
Please call the Call Tracker number you just updated. You will hear the introduction voice message stating "Thank you for calling. Please hold while your call is being connected. This call may be recorded for quality assurance."
Once you hear the voice message, the call will then play the Meadows ring tone. Your call should then route to the intended location.
If you do not hear the correct introduction, please contact accountservices@indatus.com.
If you hear the introduction but the call is not connecting to the correct place. Please revisit the number in www.trackthatcall.com and make sure the correct number is entered into the primary location.
If you have the correct number is in the primary number area and you are hearing the prompt, but the call is still not connecting. Please call the route to number and verify that it is in working condition.
If all is checked and the call is not connecting please contact accountservices@indatus.com.
Need this to go?
Download our informative how-to guide.