In this lesson, you'll learn how to add or edit a receiver code in Call Tracker. This includes learning how to use the Receiver ID feature to score representatives' calls in the Call History.
View the overview video or read this topic to learn more about adding or editing a receiver code in Call Tracker.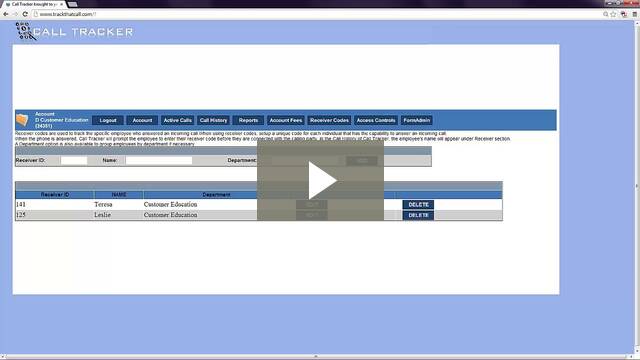 Adding/Editing Receiver Codes
Login to your call tracker acount at: www.trackthatcall.com
Select the Receiver Codes tab
Enter the following information into the text fields: Desired Receiver ID (usually a 4-digit number)*Make sure that the Receiver ID you are entering is not already in use on the account you are in! You can do so by pressing Ctrl +F to open the 'Find' feature on your computer. Type in the desired Receiver Code to be entered. If no matches are returned, this code is open. If there is a match, the client will need to be notified to select a new code for that employee, Name of employee who will be using this code, and Department the user is assigned to (i.e. property name).
Select Add.
Should you need to Edit or Delete a Receiver Code, you may utilize the buttons to the right of each Receiver Code's listing to make any necessary changes.
Need this to go?
Download our informative how-to guide.