In this lesson you'll learn the basics of how to use the Yardi importer to create contacts. Using the Yardi importer template, you will learn how populate a contact list in Zip Digital.
View the overview video or read this topic to learn more about using the Yardi importer.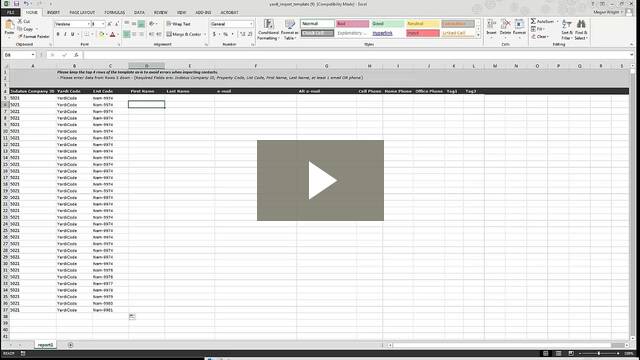 Using the Yardi Importer
How to Add a List via Yardi
Go to www.indatus.com, and click on Login.
Select Zip Digital.
Login with your user name and password.
On the Dashboard, under Contact Library select Manage Lists.
Select the New List button.
Name List, select Yardi, and select Continue.
Download ZD_General Importer Template. You are going to need the information from the Indatus Companies ID and ListCode that are auto populated on this screen.
If you have a Yardi Code, please insert that code in the box labeled Yardi Code. (Previous codes may be invalid, so make sure you are using the most up-to-date codes) When you open up the Zip Digital Yardi Importer Template and start to create your list, you need to ensure that the Indatus Company ID, Yardi Code, and List Code all match. (Codes are case sensitive and must match exactly)
Make sure the list includes: Indatus Company ID, Yardi Code, List Code, First Name, Last Name, and at least 1 email or phone.
Save file as a .csv or .xls file.
Attachande-mailthe.csvor.xlsfiletoimporter@indatus.com. No subject or body required in the email.
Select Continue.
Select Save.
You have now added your list. Lists are added every night at 12 AM EST. If you update your list, you simply need to save it and email importer@indatus.com.
For Customer Care, please contact us at 1-855-INDATUS
Need this to go?
Download our informative how-to guide.