In this lesson you'll learn the basics of how to schedule a blast. You'll review how to send a message now, schedule the delivery of a message in the future as well as how to save a message for later use in Zip Digital.
View the overview video or read this topic to learn more about scheduling a blast.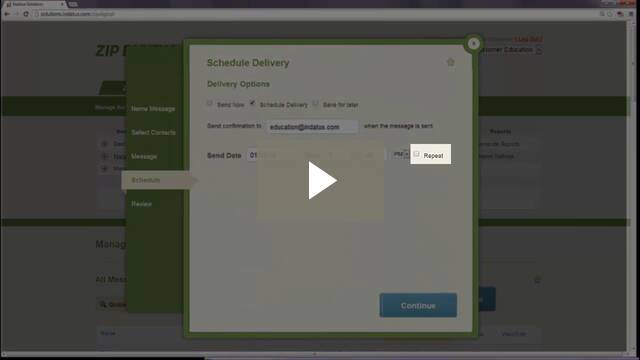 Scheduling a Blast
Go to www.indatus.com and select Login. 
Select Zip Digital. 
Log in with Zip Digital using your User Name and Password.
To send a message, you are going to select Manage Messages in the Dashboard.
Under the Manage Messages tab, you are going to select New Message.
Name the Message and select the type of message(s) that you want to send. Select Continue.
Select the contacts or lists that you want to send this message to. Select Continue.
Create your message. Select Continue.
To Schedule a message, select Schedule Delivery. Select the date and time the message should be sent.
If you would like this to go out repeatedly, select Repeat.
You can repeat a message Daily, Weekly, Monthly, or Yearly.
When selecting Daily, enter how often you want the message to occur.
When selecting Weekly, select how often you want it to occur and on what day you want the messages to send.
When selecting Monthly, select what day and how often you want the message sent.
When selecting Yearly, select the month and day that you want the message to go out. If you would like an End Date, select one of the options. Select Continue.
Review your messages and select Schedule.
Your message has been scheduled! SelectClose.
To confirm that your message has been scheduled further, you can go to Message Status under the Message Center tab. Scroll down to Scheduled Messages.
For Customer Care, please contact us at 1-855-INDATUS
Need this to go?
Download our informative how-to guide.