In this lesson you'll learn the basics of how to send a call blast. You'll create a new message, select contacts to receive the message, add the contents of your message and finally schedule when your voice message will be sent using Zip Digital.
View the overview video or read this topic to learn more about sending a call blast.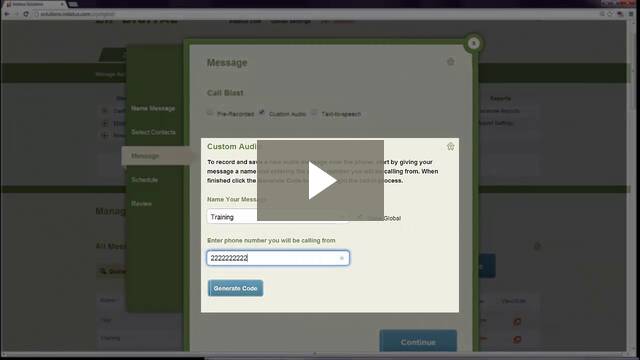 Sending a Call Blast
Go to www.indatus.com and select Login. 
Select Zip Digital. 
Log in with Zip Digital using your User Name and Password. 
To send a message, you are going to select Manage Messages in the Dashboard.
Under the Manage Messages tab, you are going to select New Message.
Name the Message and select Call Blast. Select your options and the select continue.
Press 1 to Confirm will happen before the contact listens to the message. If you are going to reach many voicemails you may not want to select this option.
Press 6 to Opt Out is required and you cannot unselect this.
Press 7 to Replay the Message; this is great if the contact didn't hear the full message.
Press 0 to Transfer is if you want the contacts to respond, you can have them transfer to your office or other phone by entering the phone number that you want the contacts to transfer to.
Select the contacts or lists that you want to send this message to. Select Continue. 
Select the type of call blast you are going to send. Select Continue. A Pre-Recorded will be an audio file that you have sent previously or uploaded. 3 Custom Audio allows you to record your own or someone else's voice by calling in. To record a custom audio: name the recording, insert the number that you or someone else will be calling from, record the message, once message is recorded you are able to preview to make sure you are satisfied. Text-to-speech is an option that allows you to write what you want to say and an automated voice will speak your message. You ALWAYS want to preview text-to-speech to ensure it is correct. You can always tweak the message and listen to it again until you are happy with the recording.
Select your delivery option. Send Now will send it right away. Schedule Delivery will send it as a specific date and time- you can repeat this. Save for later will allow you to send it at a later date. Select Continue.
Review your messages and select Schedule, Send, or Save.
You have successfully sent a Call Blast! Select Close.
To confirm that your message has been sent, go to Message Status under the Message Center Tab. Scroll down to Sent Messages.
For Customer Care, please contact us at 1-855-INDATUS
Need this to go?
Download our informative how-to guide.