In this lesson you'll learn the basics of how to send a text blast. You'll create a new message, select contacts to receive the message, add the contents of your message and finally schedule when your text message will be sent using Zip Digital.
View the overview video or read this topic to learn more about sending a text blast.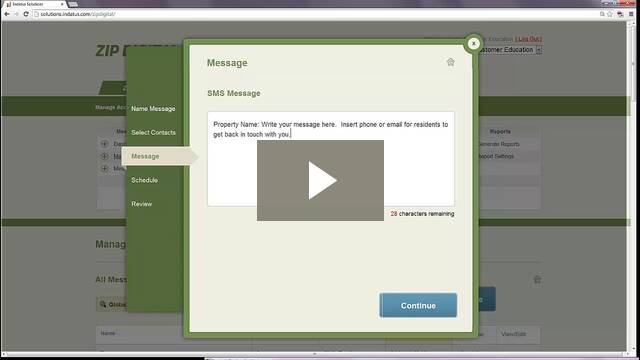 Sending a Text Blast
Go to www.indatus.com and select Login. 
Select Zip Digital. 
Log in with Zip Digital using your User Name and Password.
To send a message, you are going to select Manage Messages in the Dashboard.
Under the Manage Messages tab, you are going to select New Message.
Name the Message and select SMS Text Message. Select Continue.
Select the contacts or lists that you want to send this message to. Select Continue.
Create your message. Be sure to introduce your property at the beginning so your residents know who is sending the message. If you want your residents to be able to get back to you, please include your phone number or email address in the text message. Select Continue.
Select your delivery option. Send Now will send it right away. Schedule Delivery will send it as a specific date and time- you can repeat this. Save for later will allow you to send it at a later date. Select Continue.
Review your messages and select Schedule, Send, or Save. 
You have successfully sent a SMS Text Blast! Select Close.
To further confirm that your message has been sent, go to Message Status under the Message Center Tab. Scroll down to Sent Messages.
For Customer Care, please contact us at 1-855-INDATUS
Need this to go?
Download our informative how-to guide.